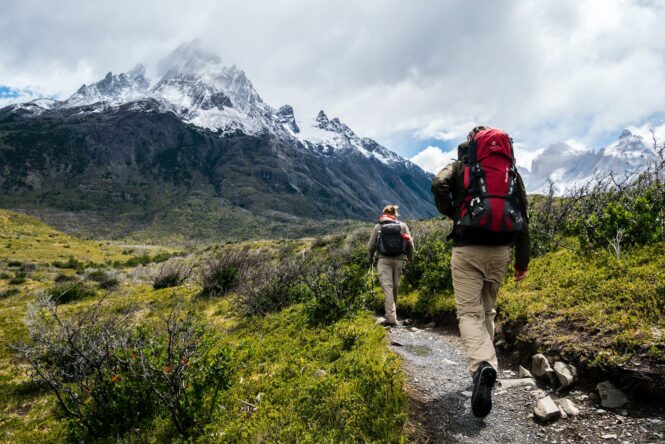 Credit: Toomas Tartes
If you're straining to get outside but the weather is not being cooperative, try watching movies that explore the outdoors. Whether based on true stories or fictional experiences, seeing others exploring the outdoors will satisfy your itch to get out of the house. From family vacations to emotional struggles, these movies are often about so much more than hiking. Keep reading to see which 20 films made it on our round up of the best hiking movies. We list each subgenre and where to stream it, so you can discover the outdoors right from your couch.
RELATED: Best Episodes of Daryl in The Walking Dead
20. Wild (2014), Hulu and Prime Video
Driven to the edge of her sanity by the loss of her mother, the dissolution of her marriage, and a dive into self-destructive behavior, Cheryl Strayed (Reese Witherspoon) decides to put her life back together. With no previous outdoor experience, a heavy backpack, and not much else, Cheryl sets out alone to hike the Pacific Crest Trail. It happens to the one of the country's longest and toughest trails, and teaches her about nature and herself as she travels along the path.
IMDb: 7.1/10
Rotten Tomatoes Audience: 75%
Genre: Biographical Adventure Drama
19. A Walk in the Woods (2015), Peacock and HBO Max
After several years of living in Britain, well-known travel writer Bill Bryson returns to New Hampshire. Instead of retiring though, the sixty-year-old decides he's going to hike over 2,000 miles along the Appalachian Trail. Funny and heartwarming, you should enjoy watching A Walk in the Woods.
IMDB: 6.4/10
Rotten Tomatoes Audience: 48%
Genre: Biographical Comedy-Drama
18. 127 Hours (2010), Disney Plus
Based on the best-selling novel Between a Rock and a Hard Place and a true event, 127 Hours explores mountaineer Aron Ralston as he explores a remote canyon in Utah, but gets stuck when a boulder falls on his arm. Over the next five days, Ralston considers his options and his life, which brings him to the choice to either amputate his arm so he can try to make it back to civilization, or stay pinned in the canyon and likely die.
IMDB: 7.5/10
Rotten Tomatoes Audience: 85%
Genre: Drama/Adventure
17. Happiness for Beginners (2023), Netflix
Happiness for Beginners delves into 32-year-old Helen Carpenter's world a year after her divorce. Her brother ends up persuading her to sign up for a wilderness survival course for adults, and she ends up meeting her brother's best friend on the trip. Based on the best-selling novel of the same name, get ready to learn that sometimes you have to get lost in order to find yourself.
IMDB: 6.1/10
Rotten Tomatoes Audience: 53%
Genre: Drama/Romance
16. Significant Other (2022), Paramount Plus
Though this horror film may cause you not to venture outdoors, Significant Other is still a great movie that explores the most intimate relationships we have. A young couple is exploring the Pacific Northwest on a remote backpacking trip, and realize they may not be alone. As things start to go wrong, they figure out that there is no one to trust, not even each other.
While on a remote backpacking trip through the Pacific Northwest, a young couple sense they may not be alone. As things take a dark turn, they find there is no one to trust — not even each other.
IMDB: 5.7/10
Rotten Tomatoes Audience: 71%
Genre: Sci-fi/Horror
15. The Way (2010), Prime Video
In The Way, an American father must travel to France in order to retrieve the body of his estranged son, who died on his pilgrimage attempt to Spain's Santiago de Compostela. The father takes the journey by himself, trying to both understand himself and his son. If you like introspective movie with a fun twist, try out this movie.
IMDB: 7.3/10
Rotten Tomatoes Audience: 83%
Genre: Drama/Comedy
14. Mile…Mile and a Half (2013), Prime Video and Pluto TV
In Mile…Mile and a Half, five friends set out to hike California's 211-mile John Muir trail in just twenty five days. Inspired by the group's dedication and bonds to each other, others join them along the way, learning about others and themselves in this intriguing documentary.
IMDB: 7.3/10
Rotten Tomatoes Audience: 80%
Genre: Documentary
13. The Way Back (2010), Youtube and Pluto TV
Though not hiking by want in The Way Back, there is still a lot of hiking that reveals a lot to the characters involved. Denounced by his wife as a possible spy in 1939, Janusz now resides in a remote Siberian labor camp. Faced with brutal conditions, Janusz plans to escape and does so during a blizzard along with a small group of fellow prisoners. That's the easy part though, as the escapees must face a 4,000 mile trek on foot through the Himalayas before they can truly be free.
IMDB: 7.3/10
Rotten Tomatoes Audience: 72%
Genre: Adventure/Drama
12. Dances With Wolves (1990), Prime Video and Sling TV
Similar to The Way Back, Dances With Wolves is also not primarily focused on hiking, but it does revolve around nomadic Native American tribes that hike across America. In the movie, a Civil War soldier develops a relationship with a band of Lakota Indians. Attracted by the simplicity of how they live, the soldier leaves his former life and is given the name Dances With Wolves. As he continues to become more embedded into the tribe, danger strikes when Union soldiers arrive with plans for the land.
IMDB: 8/10
Rotten Tomatoes Audience: 87%
Genre: Adventure/Drama/Western
11. Tracks (2013), Prime Video and Youtube
In Tracks, it's 1977 and a young Australian woman named Robyn is setting out from Alice Springs to trek across 2,700 kilometers of the harsh desert of Western Australia to reach the ocean. With only her dog and four camels as company, Davidson is trying to find herself on a journey of self-discovery across on of the harshest environments in the world.
IMDB: 7.1/10
Rotten Tomatoes Audience: 77%
Genre: Adventure/Biography/Drama
10. Touching the Void (2003), AMC+ and Tubi
It's 1985 and two friends, Joe Simpson and Simon Yates, are setting out to climb up the Siula Granda in Peru via the West Face. This has hitherto been an unaccomplished feat by any other climber. After a tough ascent they succeed, but on the descent significant problems begin to arise and slow down the climbers. Soon they are both in danger and chances of surviving are slim. To find out what happens, check out Touching the Void.
IMDB: 8/10
Rotten Tomatoes Audience: 92%
Genre: Documentary/Adventure/Drama
9. Meru (2015), Prime Video and Tubi
If you enjoy thrilling documentaries, try watching Meru. This documentary follows three elite climbers as they struggle to find their way through obsession and loss, all while attempting to climb Mount Meru, one of the most coveted prizes of Himalayan big wall climbing.
IMDB: 7.7/10
Rotten Tomatoes Audience: 91%
Genre: Documentary/Sport
8. Alone Across Australia (2004), Prime Video
Alone Across Australia takes place in 2001, when one of the worlds most accomplished climbers and adventurers John Muir began a 2,500 kilometer trek to cross Australia from the south to the north on foot. Often edging close to despair, Muir drew on instincts for survival, his understanding of the land, and his inner strength to keep pushing forward into the unknown.
IMDB: 8.6/10
Rotten Tomatoes Audience: N/A
Genre: Documentary/Adventure/Biography
7. Appalachian Impressions (2004), Prime Video
Follow along with hikers as they take the 2,173 mile journey along the most famous long-distance hiking trail in the world. You'll meet hikers who have embarked on the trek, and hear their thrilling stories about the highs and lows of this epic journey in Appalachian Impressions.
IMDB: 7.4/10
Rotten Tomatoes Audience: N/A
Genre: Documentary
6. Only the Essential (2014), Youtube
Follow Casey Fannon and Colin Arisman in the summer of 2013 as they thru-hiked the Pacific Crest Trail with cameras in their hands to document the journey. Only the Essential highlights their 5 month, 2,668 mile journey on foot from Mexico to Canada across the wilderness of California, Oregon, and Washington.
IMDB: 7.4/10
Rotten Tomatoes Audience: N/A
Genre: Documentary
ALSO READ: 7 Best Baseball Movies and Where to Stream Them
5. Edie (2019), Prime Video and PLEX
If you've ever heard of the phrase "it's never too late," then you should check out Edie. 83-year-old Edie believes it is never too late to do anything, so she packs up and old camping bag and leaves her life behind on and adventure she never got to have — climbing the imposing Mount Suilven in Scotland.
IMDB: 6.6/10
Rotten Tomatoes Audience: 75%
Genre: Adventure/Drama
4. Southbounders (2005), Prime Video
If you want to watch another film focusing on the Appalachian Trail, check out Southbounders, where a young woman attempts a "thru-hike" of the 2,170 mile footpath that wanders the length of the Atlantic seaboard from Maine to Georgia.
IMDB: 6.8/10
Rotten Tomatoes Audience: 72%
Genre: Drama
3. Everest (2015), Apple TV and Prime Video
In Everest, two commercial expeditions full of climbers embark on May 10, 1996 to start their final ascent to the summit of Mount Everest, the highest point on Earth. With little warning though, a violent storm hits the mountain side, engulfing all in one of the fiercest blizzards ever encountered by man. The team must endure blistering winds, freezing temperatures, and lack of oxygen in a battle to survive nearly impossible odds.
IMDB: 7.1/10
Rotten Tomatoes Audience: 68%
Genre: Action/Adventure/Biography
2. America Wild: National Parks Adventure (2016), Roku Channel and Prime Video
Narrated by Academy Award winner Robert Redford, National Parks Adventure brings audiences into America's most legendary playgrounds, including Yellowstone, Yosemite, Glacier National Park, Redwood National Park, the Everglades, and the Arches. A 100-year anniversary celebration of the parks, enjoy the ride as camera views take you through rock canyons and mountain peaks.
IMDB: 7/10
Rotten Tomatoes Audience: 52%
Genre: Documentary/Short
1. Into the Wild (2007), Hulu and Paramount Plus / Best Hiking Movies
Based on a true story, Into the Wild has also become an award-winning novel about the man named Christopher McCandless, who after graduating Emory University as a top student and athlete, abandons all his possessions and money to hitchhike to Alaska. His aim? To live in the wilderness with no strings attached and as little worldly possessions as possible. Along the way, McCandless meets a series of characters that continue to shape his life as he journeys farther north.
IMDB: 8.1/10
Rotten Tomatoes Audience: 89%
Genre: Adventure/Biography/Drama
As you can see, hiking movies can be dramas, biographies, documentaries, or comedies, so there is truly something for everyone to relate to. The landscapes also vary from the Pacific Crest Trail to Mount Everest to Alaska, so you'll get to travel around the world with the camera. Hopefully our list of the best hiking movies will refresh your evening with stories of adventure or even inspire you to try out your next hike.