Roku 4k Streaming Stick 2023 Review
The Roku 4k Streaming Stick is a definite upgrade from previous Roku stick models and one of our top streaming devices in 2023. We know the streaming device market is crowded, with tons of entries from Amazon, Apple, and Google, which makes it a little hard to set yourself apart from the pack.
We also know that this streaming stick doesn't look like it packs a powerful enough punch for your big-screen streaming needs. But not only does it pack a punch for its size, but it is also ridiculously affordable.
Roku 4k Streaming Stick 2023 Review
If you are in the market for a new streaming stick and don't need the Apple or Google ecosystem, this Roku 4k Streaming Stick offers fantastic bang for your buck!
Pros
The Roku 4k device supports HDR
Connect to iOS devices via Apple AirPlay
Unlock a massive ecosystem of content accessible to Roku devices
The device is ridiculously affordable
It will last for years with no need to upgrade
Cons
Does not support Dolby Atmos
Pushes you towards the Roku Streambar
RELATED: YouTube TV Review: Is YouTube TV Worth It for Cord Cutters?
Why the Roku 4k Streaming Stick Impresses
Simply put, all of Roku's products stand out in our reviews thanks to their convenient features, impressive performance, and budget-friendly pricing. This latest model supports:
4K HDR content (although your TV will need also need to support that content).
Apple AirPlay, for casting from an iOS or Mac device directly to your TV.
It claims to provide 30% faster app boot times than previous Roku devices. And in our tests, the interface was smooth and the media loaded quickly.
Additionally, the media device can stream from Wi-Fi 2x faster, keeping up with the latest internet upgrades.
In our tests, the media stick was able to connect to our Wi-Fi regardless of distance from the router.
What the Roku 4k Streaming Stick Lacks
Sadly, the device isn't perfect, but at around $40 that is to be expected. We found the device lacks:
The latest audio standards, for example, it doesn't support Dolby Atmos.
We found the device didn't support any advanced audio settings, not even surround sound.
We believe this is to push users into buying the Roku Streambar (a soundbar with Roku built-in).
And seriously, that is where the negatives end.
Roku 4k Streaming Stick Design
The Roku Stick maintains its basic, simple design that started years ago. Design features include:
Where this new Roku device improves on its design is in the remote control. With the tap of a button, you can voice search for any TV show or movie you want.
Additionally, if you're watching late at night, you can listen privately by plugging your headphones into the headphone jack on the remote if you grab the 4K+.
You can also power up your TV, adjust the volume, and control your Roku Streaming Stick with the Roku remote. The changes to the remote are probably the most significant changes made when it comes to design.
The best part of this simplicity is that if you are traveling somewhere, and you are not sure if they have a smart TV, you can take it with you. Staying in a hotel, they only have basic cable, plug in your Roku Stick, and now you have access to all the streaming services. It's small and won't take up much space in your luggage.
How to Set Up Your Roku 4K Streaming Stick
Setting up your Roku device is actually extremely easy compared to some of the other devices, and you're able to connect it to any television with an HDMI port. To hook up your Roku 4K Streaming Stick device up, go through these steps.
Plus, in your Roku 4k stick directly into the televisions HDMI port. If you're planning on streaming 4K or HDR content, you must connect your Roku stick to an HDMI input that supports HDCP 2.2.
Connect your Roku device to power, from either a wall outlet or a USB power source. Any Roku streaming stick supports USB power, so if you're connecting your Roku to USB, use the USB power cable to connect it to a USB port on your TV.
Use the TV remote to power on your television and select the input where you connected your Roku device. You should see the Roku logo on the screen as it powers on.
From here, follow the steps on the different setting preferences that you want. And then log into any streaming app that you have an account for.
If you're TV doesn't have an HDMI port, however, you can get an older Roku player with a composite audio/video connection. To determine this, look for a single port labeled AV or AV Out, or you may see a separate port labeled VIDEO along with two ports labeled AUDIO.
This is likely a red, white and yellow connectors that you often see. Using these cables, you can connect this into your television to use the Roku device.
CHECK OUT: Paramount Plus Subscription Prices and Best Plans 2023
How to Set Up Your Roku Remote
Setting up your remote is dependent on the type that you have. With a simple remote, slide open the battery cover and insert fresh, matching batteries.
If you have a Roku voice remote and have standard batteries, it will begin to be in pairing mode immediately when it receives power, and then you can pair the remote to the Roku 4K stick.
If you have a rechargeable battery, a Roku Voice Remote Pro, you must press and hold the pairing button for 5 seconds until the status light turns green and starts flashing.
Is the Roku 4k Streaming Stick Worth Buying in 2023?
The Roku 4k Streaming Stick is a high-quality streaming device that gives you access to all the content you want. New Roku devices seem to improve with each release, and this streaming stick is no exception.
This is one of your best bets if you're looking for a new streaming stick to play content from different streaming services at a ridiculously low price.
Compare Roku Products
But of course, the 4k Streaming Stick is not all that has been released by Roku. There have been several products over the years that has made Roku one of the biggest names in the streaming. To compare and check out some of their products, these are some of their best.
And while the Roku 4K Streaming Stick is arguably the best, there are newer styles like the 4K+ with an even better remote, or the Ultra that does almost everything you can think of, that you might be interested in.
| | | | | | | | | | | |
| --- | --- | --- | --- | --- | --- | --- | --- | --- | --- | --- |
| | Starting Price | HDR10+ | Dolby Vision | Fast Channel Launch | Wi-Fi | 4K & HDR | Audio | Remote | Ethernet Port | USB Port |
| Roku 4K Streaming Stick | $49.99 | Yes | Yes | Yes | Long-range | Yes | Quiets loud commercials | Roku Voice Remote with TV power and volume buttons | No | No |
| Roku 4K Streaming Stick Plus | $69.99 | Yes | Yes | Yes | Long-range | Yes | Quiets loud commercials | Roku Voice Remote with TV power and volume buttons, lost remote finder, rechargeable remote, hands-free voice controls, private listening with headphones, personal shortcuts. | No | No |
| Roku Express 4K Plus | $39.99 | Yes | No | No | Standard | Yes | Quiets loud commercials | Roku Voice Remote with TV power and volume buttons | No | No |
| Roku Ultra | $99.99 | Yes | Yes | Yes | The Best | Yes | Bluetooth, private listening and music streaming, Quiets loud commercials | Roku Voice Remote with TV power and volume buttons, lost remote finder, rechargeable remote, hands-free voice controls, private listening with headphones, personal shortcuts. | Yes | Yes |
| Roku Express | $29.99 | No | No | No | Standard | No | Quiets loud commercials | Basic | No | No |
Comparing the Roku 4K Streaming Stick to Others
Roku is one of the leading names when it comes to streaming options, along with Chromecast and Apple TV, so which one should you pick? There are perks to each of them, and it really comes down to the preference of the user. However, when comparing, these are some of the main differences to keep an eye out for when picking.
Chromecast does everything that Roku does, however, you will need an app for the channel or an app on a phone in order to watch something. With Roku, app use is optional. Chromecast also doesn't have a remote, which Roku does, making it a bit more user friendly. The one big main difference is that while both set ups work with Andriod and Apple, Chromecast works with Google Assistant.
But what about Apple TV? It seems like Roku and Apple TV go head-to-head competing for the number one spot as a streaming media platform. Let's compare the Roku Ultra to the Apple TV. Apple TV is obviously a must if you have several Apple products, however it's more expensive.
Apple TV includes more apps that integrate with one another like Apple Music, Fitness+ and more, but Roku has a broader range of channels like Netflix, Hulu, Disney+ and more. Both devices work with HD and UHD TVs, and both offer their own gaming apps for more entertainment. Comparing Apple TV and Roku is tough, as they're so close but it ultimately comes down to preference on what you're trying to use it for.
What's Coming Next to Roku?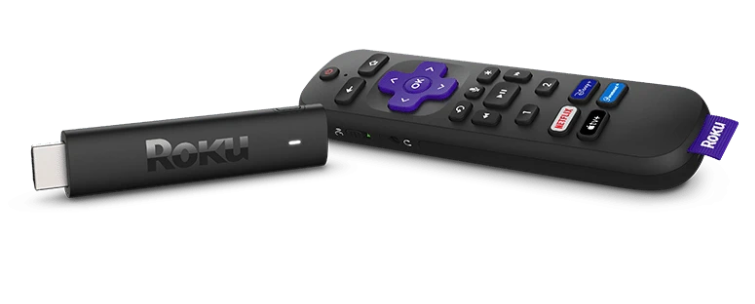 There's not much going around about a new Roku device in general, but that doesn't mean that Roku isn't making sure their current products aren't up to date. Roku recently announced an upcoming update, Roku OS 12.5 update, that will revolve around sports.
There will be a new Favoriting system that allows users to track live and upcoming sporting events for their go-to teams in a single curated row. There will also be a new Highlights feature that will allow users to watch clips from recent sporting events they might have missed. And lastly, the roster of sports-related content on Roku TV will be expanded to include motorsports.
Along with the sports updates, they are also working towards making the What to Watch categories easier to navigate. They will be adding categories like TV shows, movies, new and popular, free and more to help users experience when looking through Roku.
Conclusion
Roku is one of the top brands when it comes to streaming media options, and it's one of the best choices. With such an affordable price tag, you might expect to receive a not-so-great product, but you're actually getting just a great deal.
And not only that, but Roku products also last you a long time. I've had a Roku stick since college, so almost 8 years now, and there's no real reason to upgrade. This is a long-term product if you're just wanting something that will get you what you need without worrying about constant upgrading, which is very common in other streaming media options like Apple TV.
If you're wanting the best streaming media box without worrying about dropping too much money, Roku is the way to go with the Roku 4K Streaming Stick as the best option. Of course, if you want an option that is a bit ahead right now, the Roku 4K Streaming Stick Plus has just an overall better remote but is definitely not a must have.