When you think of grace, you probably think of Audrey Hepburn. Known for her incredible acting career, philanthropic efforts, and effortless beauty and fashion, she is an icon that young girls still look up to this day. Many Audrey fans have seen her most famous films like Breakfast at Tiffany's or My Fair Lady, but have you seen her other performances? Our list includes movies that are lesser known in pop culture right now, so you can really get to know Audrey on screen.
As an actress, Audrey filmed a wide range of movies across all different genres including classics, romance, musicals, and thrillers. Her talent made her one of the most well-known actresses of her time. Her presence on camera is unique and not only because of her distinct beauty, but because she creates deep emotion and relatable characters on screen. Our list of the 10 best Audrey Hepburn movies selects from each of the genres she's mastered, so you have to check out these captivating films from her portfolio.
CHECK OUT: 10 Iconic Old Movies That Dip Your Toes into the 40s and 50s
10. The Children's Hour (1961)
First on our list of the best Audrey Hepburn movies is The Children's Hour, which showcases her range as an actress and addresses some serious themes we still face in society today. As Karen (Hepburn) and Martha (Shirley MacLaine) run the Wright and Dobie School for Girls, they are working hard to maintain their friendship and fulfill their duty as teachers. After a disagreement over a student lying, rumors start flooding the town that Karen and Martha are in a gay relationship with one another.
During the 1960s when the film was made, being gay was still known to have a negative connotation. Additionally, it was not true and affected the profitability of their school, so the two women filed a lawsuit for defamation of character. This movie is significant in Hepburn's repertoire because it shows that not everything ends happily, even in the movies, and the lack of acceptance in their community is something that should be changed. All in all, lies and rumors can lead to some serious consequences.
9. Wait Until Dark (1967)
Wait Until Dark is a twisted thriller that isn't for those who get afraid easily. Audrey plays a visually impaired woman, Susy, who suddenly finds herself in the middle of a murder investigation because a dead body is found in her apartment building. If her blindness wasn't already frightening during this time, people come after her and claim that her husband is involved in the murder and the loss of illegal drugs worth a fortune.
Susy is objectively a challenging role for many reasons. However, Hepburn's portrayal of a truly frightened woman is the kind that sticks with you. It's shot with dark backgrounds and people sneaking up behind her, so the cinematography adds a layer of horror to the movie. I often think back to it when I'm at home alone because of its intense suspense. If you enjoy thrillers, definitely give this Hepburn movie a watch.
8. My Fair Lady (1964)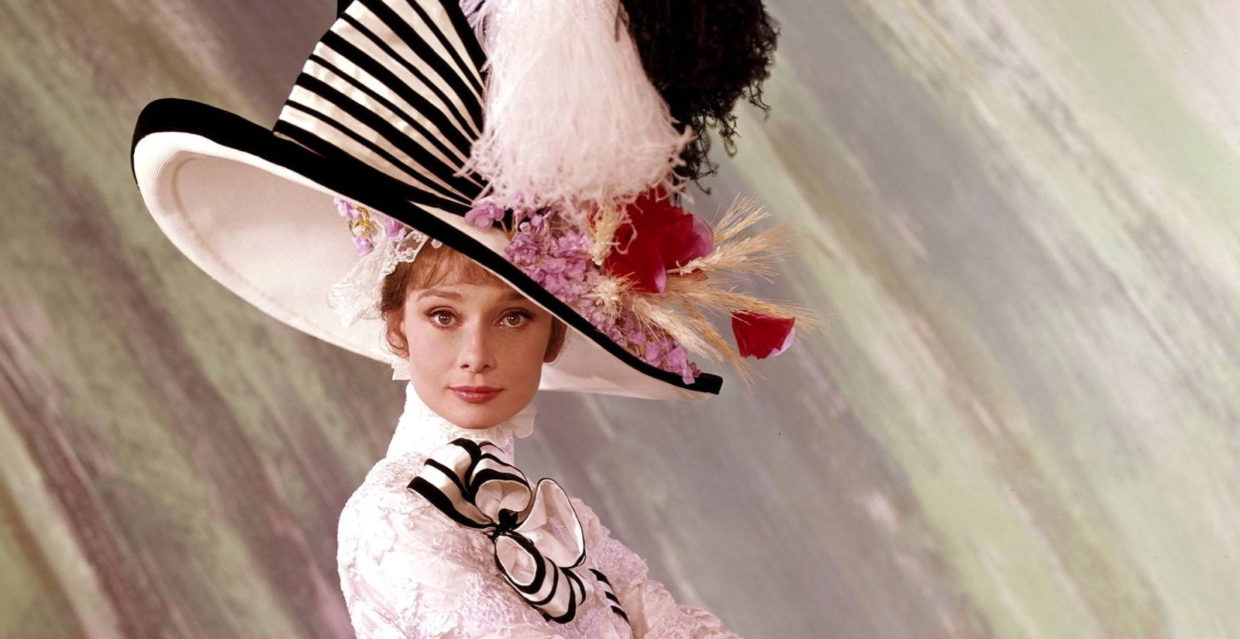 A famous musical and one of the best Audrey Hepburn movies, especially for a younger audience, is My Fair Lady. The story takes place in the 1910s in London where class and society was quite divided and important for leading a successful life. A phonetics professor, Henry Higgins, is so confident in his skills that he bets he can take a working class girl with poor diction, Eliza Doolittle, to a classy, well-spoken member of high society.
As a result, they embark on her transformation in which she must behave like a "proper lady." Eliza is a spirited character, so she resists, but hopes it can help turn her life around. With some upbeat music and banter between Eliza and Henry, it's a must watch for musical lovers. It was controversial when it was first released because even though Hepburn masters the famous character, she didn't actually record all of the songs with her own singing voice. Nonetheless, she adapted to a broadway audience and her talent is shown on a great scale in this film.
7. Paris When It Sizzles (1964)
If you're a writer or some day hope to write a screenplay, you'll think Paris When It Sizzles is one of the best Audrey Hepburn movies out there. Richard Benson is a writer who has a bad habit of procrastination. So, after he sold a plotless movie titled "The Girl Who Stole the Eiffel Tower," he has to come up with a blockbuster concept quick.
To get the job done, he hires a typist (played by Hepburn). What makes this movie so magical is that the two lead characters end up acting out each scene as he devises plot and she types it up. They pause, make edits, and act out the entire creative process on screen. This filming style is very unique and provides an inside perspective to the audience about what may happen in the end.
ALSO READ: Ranking the 10 Best Gregory Peck Movies From Westerns to Classics
6. How to Steal a Million (1966)
How to Steal a Million is a lesser known Audrey Hepburn movie, but it's unique plot and suspenseful premise place it as number six on our list. Hepburn plays Nicole Bonnet who is a loving and loyal daughter even though her father is an art forger, making millions off of fake masterpieces, and gets them both mixed up with thieves. He continues to get away with his scheme until the Kléber-Lafayette Museum plans to authenticate his latest find.
In an effort to protect him, Nicole devises a plan along with a known burglar to break into the museum and steal back the statue. You can watch How to Steal a Million on Sling TV for free to watch this wild plan unfold before your eyes. It's both funny and suspenseful, showing the behind-the-scenes of museums, art collectors, and criminals.
5. Roman Holiday (1953)
One of the best Audrey Hepburn movies is a realistic depiction of what it's like to be a princess. In Roman Holiday, Audrey Hepburn stumbles onto the streets of Rome after she escapes her controlling family and royal minders. Instead of prince charming discovering Cinderella because the shoe fits, Joe Bradley (Gregory Peck) discovers Princess Ann passed out on the streets of Rome. He takes her home to save her life until he realizes who she is and just how much money he could make off of her story.
As the royal family finds out she's missing, Princess Ann decides to have some fun in Rome before she has to go back to her world tour and many obligations. It's an unexpected and fun love story in which both main characters learn to take themselves less seriously and become better people for it. You can stream it now on Paramount Plus or rent on Amazon.
4. Funny Face (1957)
Not only is Funny Face one of the best Audrey Hepburn movies, but it is also her best musical on film. In the world of fashion during the 1950s, it was unusual to see any unique faces on the cover of a magazine. However, when Dick Avery (played by Fred Astaire) discovers Jo Stockton (Audrey Hepburn) in a bookstore, he sees something magical in her beauty.
Soon after, Jo is named the "Quality woman" representing Quality magazine as an international model. She's not your typical model because she represents intelligence, natural features, and an identity women can relate to. Along with Hepburn and Astaire's dancing and singing, this movie promotes a positive message of self-love and celebrating differences. Check out Funny Face on YouTube to boost your mood.
3. Breakfast at Tiffany's (1961)
Breakfast at Tiffany's is the movie that everyone knows because of Audrey's little black dress (LBD) and pearl jewelry that made every young girl obsessed with fashion. However, it's important to note that this movie is about so much more than glamour in New York City. It's actually pretty dark as it explores Holly Golightly's complicated family history, poverty, and heartbreak.
When Holly meets a young writer, Paul Varjack, she is unable to fully open her heart to him because she is seeking comfort and security as a way to escape from her troubled childhood. She is also fiercely independent until a man can offer her financial support. This story is fascinating as Holly's personality and views on romance are untraditional for the time. You can stream this movie for free on Sling TV.
CHECK OUT: 10 Best Method Actors and the Movies They're Known For
2. Charade (1963)
In a different kind of romance story available for free on Pluto TV, Hepburn plays Regina Lampert, a widow who uncovers dangerous information about her husband and how he is tied to a fortune that many people are after. She is completely unsure of who to trust as several people come out of the woodwork and attempt to get close to her.
From threats to car chases and murder, Charade has suspense, terror, and action that put Audrey on the map for thrillers. However, it wouldn't be an Audrey movie without an attractive new suitor, which makes Cary Grant the perfect co-star in this movie. You have to watch this movie to uncover Mr. Lampert's big secret and trust me, it's a shocker.
1. Sabrina (1954)
As an Audrey Hepburn fanatic, her best movie of all time was an easy decision. Sabrina is one of her most underrated movies that has an engaging plot, character growth, and tons of amazing fashion and pop culture references. It takes place on Long Island, Paris, and New York City during the 50s, which allows for incredible history and scenery.
Hepburn plays Sabrina who is a chauffeur's daughter living on a wealthy family's estate in Long Island. She grows up with their two sons, David and Linus Larrabee, and is madly in love with David, a known womanizer. She takes a trip to Paris where she studies cooking and finds her self-confidence. When she comes back with a complete makeover, the rom com truly begins as both brothers fight over the new Sabrina. It's a coming of age story about love, self-identity, and resilience, so everyone can relate to this classic Cinderella story. You can watch now with an Amazon Prime Video subscription.
What Makes Audrey Hepburn So Iconic?
When looking back at Audrey Hepburn's career as an actress, she is clearly a professional that can pull off relatable characters in any genre. From musicals like My Fair Lady and Funny Face to thrillers like Wait Until Dark and Charade, she performs emotional and complicated stories that have lasted the test of time. Not only is she a talented actress, but Audrey Hepburn represents the epitome of class, romance, and elegant fashion. Each and every role she's taken has allowed her to bring a sense of grace and spark numerous fashion trends. As a result, her fanbase is fiercely loyal and her iconic status remains today.