American Dad, originally on TBS, debuted in 2005 and is still going strong to this day. The animated sitcom is now in its 20th season, airing every Monday on TBS. There are countless hilarious episodes, but which are the best American Dad episodes? Keep reading for our top 10 best American Dad episodes ranked.
What is American Dad?
For those unfamiliar with the show, the lead is CIA Agent Stan Smith, played by the voice of Seth MacFarlane, who because of his role in fighting terrorists, gets the title of "American Dad." Francine Smith, Stan's wife, is a stay-at-home mom, looking after two kids, Hayley and Steve. Steve is the nerd of the family, he loves Dungeons and Dragons, comic books, etc. The show also has an extraordinary character, Roger, who is an illegal space alien that the Smith family secretly looks after. And finally, there's Klaus, the Smith's talking fish.
In the Smith's truly "all American" lives, you can find a ton of humor. Families full of different personalities often lead to conflict and this show is no exception. Check out how Stan tries to be the best CIA agent and dad rolled into one. If it sounds impossible, that's probably because it is. Without further ado, these are the best American Dad episodes and why they rank highly on IMDb.
WARNING: Some of the clips below are not suitable for work or children.
10. The Vacation Goo (Season 3, Episode 1)
If the word "goo" sounds gross, that's because it is. In this episode of American Dad, the Smith family decides to take a real vacation instead of being submerged in green goo. However, Francine isn't content with their make up trip because everything is surprisingly going well for a change. How could that be? All the while, Roger, the alien, decides to try his hand at acting for his career. This episode is ranked an 8.2/10 for its humor, ridiculousness, and character development.
9. The Two Hundred (Season 11, Episode 10)
"The Two Hundred" is an episode in one of the later seasons in which Stan finds himself in the apocalypse. He must venture through this new world and go up against the "200" gang in order to find his family. Even in times of stress, American Dad manages to make us all laugh at Stan and the situations he finds himself in. This episode is highly rated among fans on IMDb, so it's definitely one of the best American Dad episodes you can rewatch.
8. Rapture's Delight (Season 5, Episode 9)
If you do not get easily offended by religious humor, this is a great episode for you to check out. On Christmas Day, Stan is more concerned with getting a good seat in church, rather than the church proceedings. Then, someone upstairs intervenes. When he has the opportunity to leave Francine for heaven, he takes it. She becomes upset and battles her "demons" back on Earth. Stan eventually realizes the good in it all and heads to rescue Francine. With an 8.8 on IMDb, you have to check this one out for an entertaining laugh.
7. Ad-Ventures In Hayleysitting (Season 8, Episode 8)
When it turns out the Smith's usual babysitter is unavailable, daughter Hayley is left to look after Steve. However, on this night, Steve decides to sneak out to a party. This episode is a fan-favorite because of Charlie Day's guest appearance. It ends with an unexpected yet hilarious twist.
6. The Magnificent Steven (Season 3, Episode 18)
After Steve was prosecuted for sending contaminated cattle to the slaughterhouse, Stan starts his quest to turn his son into a man. Can you imagine the amount of bits and jokes that come out of this? Manhood is certainly entertaining to see defined by Stan. While this is happening, Francine and Hayley are involved in a catfight. As a result, fans have rated this episode a 7.3 out of 10 on IMDb.
5. Jenny Fromdabloc (Season 7, Episode 16)
Steve and Roger devise a plan to cheer up Snot after he professes his love for Hayley and is shot down. He disguises himself as Steve's cousin Jenny Fromdabloc (a funny take on a cultural reference to Jennifer Lopez), and it's hard for Snot to look away from her. After a while, Stan wants to live like a gentleman of the 1960s, complete with dark suits and dry martinis. This is full of cultural references and jokes that will keep you entertained throughout the episode.
4. Great Space Roaster (Season 5, Episode 18)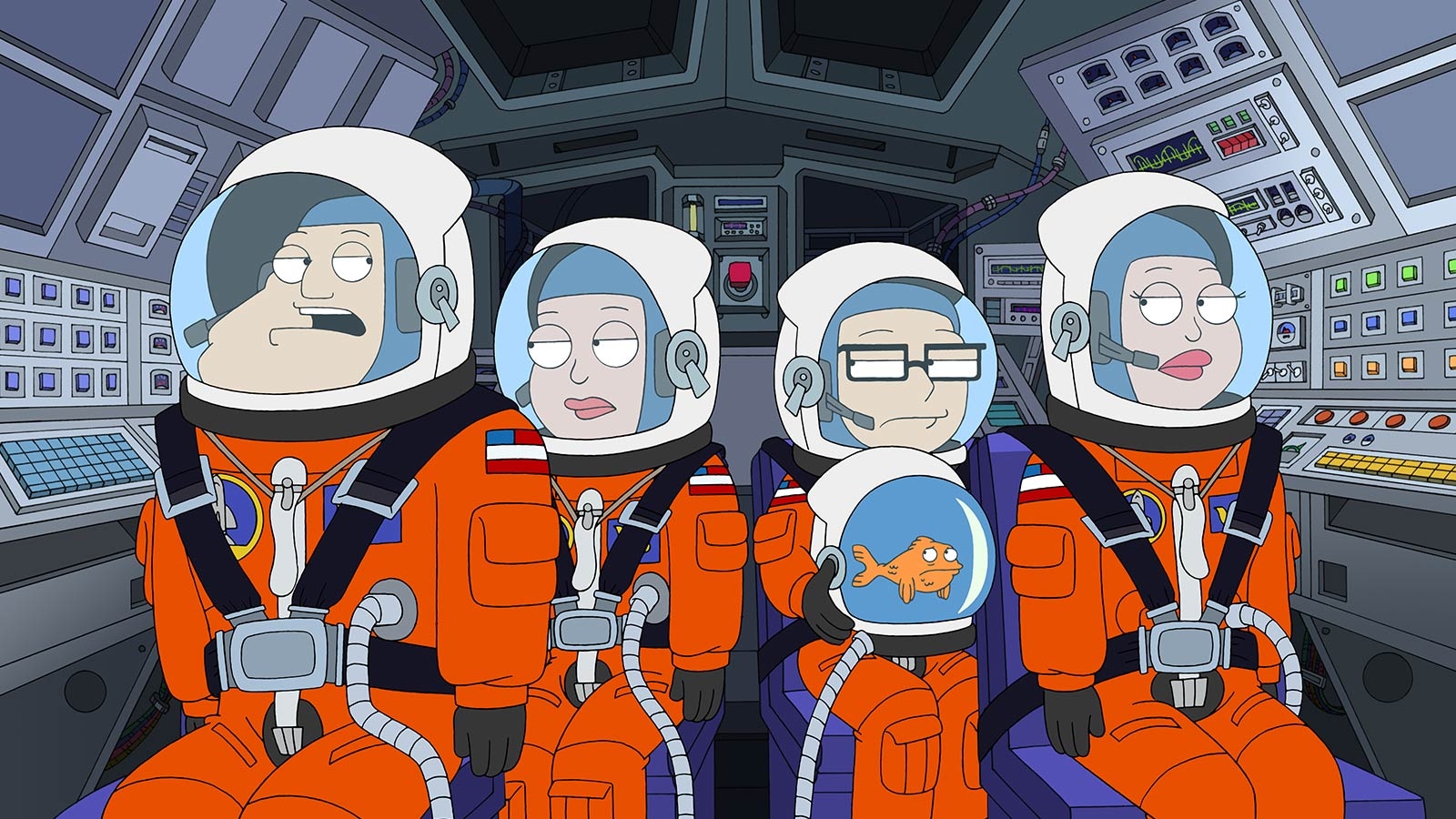 Roger wants to be roasted by the Smiths, but ends up hurt by the family's onslaught of harsh words. And in the aftermath, Roger takes it a little too far. He decides to try to kill them, which results in the family ending up on the run. What a birthday! At an 8.1 on IMDb, this episodes is without a doubt one of the best American Dad episodes available.
3. Office Spaceman (Season 3, Episode 14)
In "Office Spaceman," Roger releases photographs of himself to the local media in order to earn extra money, prompting the CIA to form an Alien Task Force. Inadvertently, Roger becomes Stan's boss as he is in charge of the task force. As you can imagine, this results in a tense situation at home. On a lighter note, Francine has to cope with the fact that she is left-handed. At the same time, Roger identifies Stan as an alien to disguise his identity.
CHECK OUT: 15 Best Animated Movies for Adults and Where to Stream Them
2. Lost in Space (Season 9, Episode 18)
Interestingly, one of the best American Dad episodes doesn't feature the Smith family at all. Instead, it stars Jeff who finds himself on a spaceship after aliens abduct him. To find his way back to the Smiths and Earth, he must prove his love for Hayley to Emperor Zing. With an 8.4 IMDb rating, you can tell this unique episode is a fan favorite.
1. G-String Circus (Season 5, Episode 3)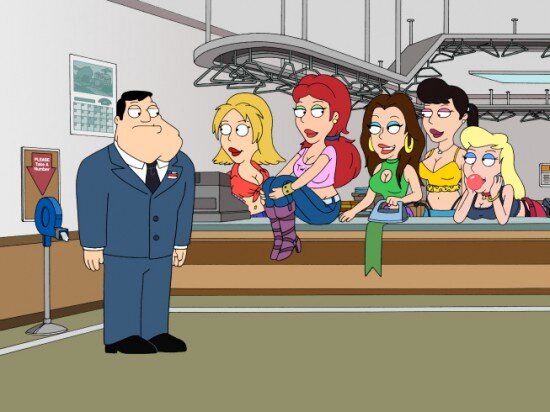 In this episode, Hayley no longer wants Stan's advice. And to prove her wrong, he launches a dry-cleaning company run by strippers. He can't see anything wrong with this idea at all. However, in the end, he has to start dancing for money to cover his business failures. This episode is truly hilarious. Bring your open mind and prepare to laugh at Stan the entire time.
How to Watch American Dad?
Now that we've wrapped up our ranking of the 10 best American Dad episodes ever, let's recap how you can stream the show right now. American Dad releases a new episode every Monday on TBS, so you can stream it on their website on demand, or watch on your at-home cable package. If you're a Hulu subscriber, you're in luck! American Dad also has seasons 1-17 available to stream on Hulu. If you love animated sitcoms, funny cartoons, and a little bit of raunchy humor, you'll truly enjoy these fan favorite episodes of the show.