Romantic comedies (or "rom-coms" for short) have been a beloved genre of movies for many decades, with the 90s being no exception. The 90s brought us many unforgettable romantic movies that continue to capture our hearts today. In this article, we'll take a look at our favorite 90s romantic comedies and explore why they're still popular today.
Also Read: 10 Movies About Blondes That Will Make You Consider a Color Change
15. The American President (1995)
The American President is a politically-themed romantic comedy from 1995. The movie stars Michael Douglas and Annette Bening and was directed by Rob Reiner. The President of the United States lost his wife, so solo parenting with a daughter and running a country proves a lot to handle. However, his popularity ratings skyrocket and he's on his way to re-election. In an interesting twist, he falls in love with a lobbyist in Washington. But, can the President date? We find this concept incredibly intriguing and the romantic spark is hard to look away from.
14. Groundhog Day (1993)
Groundhog Day is one of our favorite 90s romantic comedies because it has a unique creative edge in the rom com genre. As the story goes, Phil, a weatherman, is forced to relive the same day over and over again until he learns to be a better person and win the heart of his co-worker Rita. The movie stars Bill Murray and Andie MacDowell who have lots of cinematic chemistry.
13. Can't Hardly Wait (1998)
Can't Hardly Wait is a romantic comedy from 1998. The movie stars Jennifer Love Hewitt and Ethan Embry. The story follows a group of high school seniors at a graduation party, and the various romantic entanglements that occur throughout the night. It's a very young, fun, and even promiscuous rom com that totally embodies the vibe and fashion of the 90s.
12. She's All That (1999)
She's All That stars Freddie Prinze Jr. and Rachael Leigh Cook and embodies the young feel of the 90s. The story follows Zack, a popular high school student, who bets that he can turn the nerdy and unpopular Laney into the prom queen. If you enjoy a good high school drama with a touch of Cinderella and an underdog story, you'll love seeing this rom com star's evolution.
11. Never Been Kissed (1999)
Never Been Kissed is Drew Barrymore's famous romantic comedy from 1999. Josie, a newspaper reporter, goes undercover as a high school student to write a story, and ends up falling in love with her teacher. While the idea of a teacher and student falling in love is unprecedented, this movie twists our hearts because she's undercover as a student. This is definitely a creative premise with some iconic scenes, making it impossible to leave off of our favorite 90s romantic comedies list.
10. Sleepless in Seattle (1993)
Sleepless in Seattle stars Tom Hanks and Meg Ryan who have several rom coms together from this time period. The story follows Sam, a widower, and his son Jonah, who move to Seattle to start a new life. When Jonah calls a radio show to find a new wife for his father, Sam is flooded with letters from women across the country, including Annie, who becomes interested in Sam despite being engaged to someone else. This falls as number 10 on our list because we think it's a bit unrealistic, as some romantic comedies tend to be. However, we can't help but fall in love with the nostalgic 90s fashion and radio shows.
9. Four Weddings and a Funeral (1994)
Four Weddings and a Funeral is a British romantic comedy that was released in 1994. The movie stars Hugh Grant and Andie MacDowell. Charles, a typical bachelor, attends four weddings and a funeral over the course of a year, meeting and greeting against his will. Somewhere along the way, he falls in love with an American woman named Carrie and has to admit to himself that he's ready to leave bachelor life behind.
8. Notting Hill (1999)
Notting Hill is one of the more sweet and innocent romantic comedies on this list. Somehow romantic comedies tend to be slightly devious, but not this one. You'll see Julia Roberts and Hugh Grant's super subtle humor and chemistry as they spend time getting to know each other. The two embark on a tumultuous and unlikely relationship that is complicated by Anna's celebrity status as a Hollywood actress and the media attention that follows her. Hugh Grant's character, William, is such a sweet man. You'll be rooting for him the whole movie.
7. You've Got Mail (1998)
You've Got Mail is yet another romantic comedy starring Tom Hanks and Meg Ryan. The story follows two rival bookstore owners, Joe and Kathleen, who unknowingly fall in love with each other through anonymous emails. In another unlikely premise, these two can't seem to stay away from each other. We had to rank this higher than Sleepless in Seattle because it is a bit edgier and more realistic.
6. 10 Things I Hate About You (1999)
10 Things I Hate About You stars Julia Stiles and Heath Ledger and is actually a modern retelling of William Shakespeare's play The Taming of the Shrew. As a result, it follows Kat, a high schooler who tries as hard as she can to be different from everyone and follow independent, feminist principles. Patrick enters the picture and is similarly "different" and labeled as the "bad boy." It's impossible not to watch this unlikely pair soften together over time.
5. The Wedding Singer (1998)
The Wedding Singer is a romantic comedy that was released in 1998. The movie stars Adam Sandler and Drew Barrymore and was directed by Frank Coraci. Robbie is a wedding singer who is clearly surrounded by displays of love every day. He's engaged, but ends up falling in love with Julia, a waitress. However, he stumbles upon another obstacle in that Julia is also engaged and to a wealthy man. It's funny to see a rom com tackle when an engagement isn't right and this time, it's mutual.
4. My Best Friend's Wedding (1997)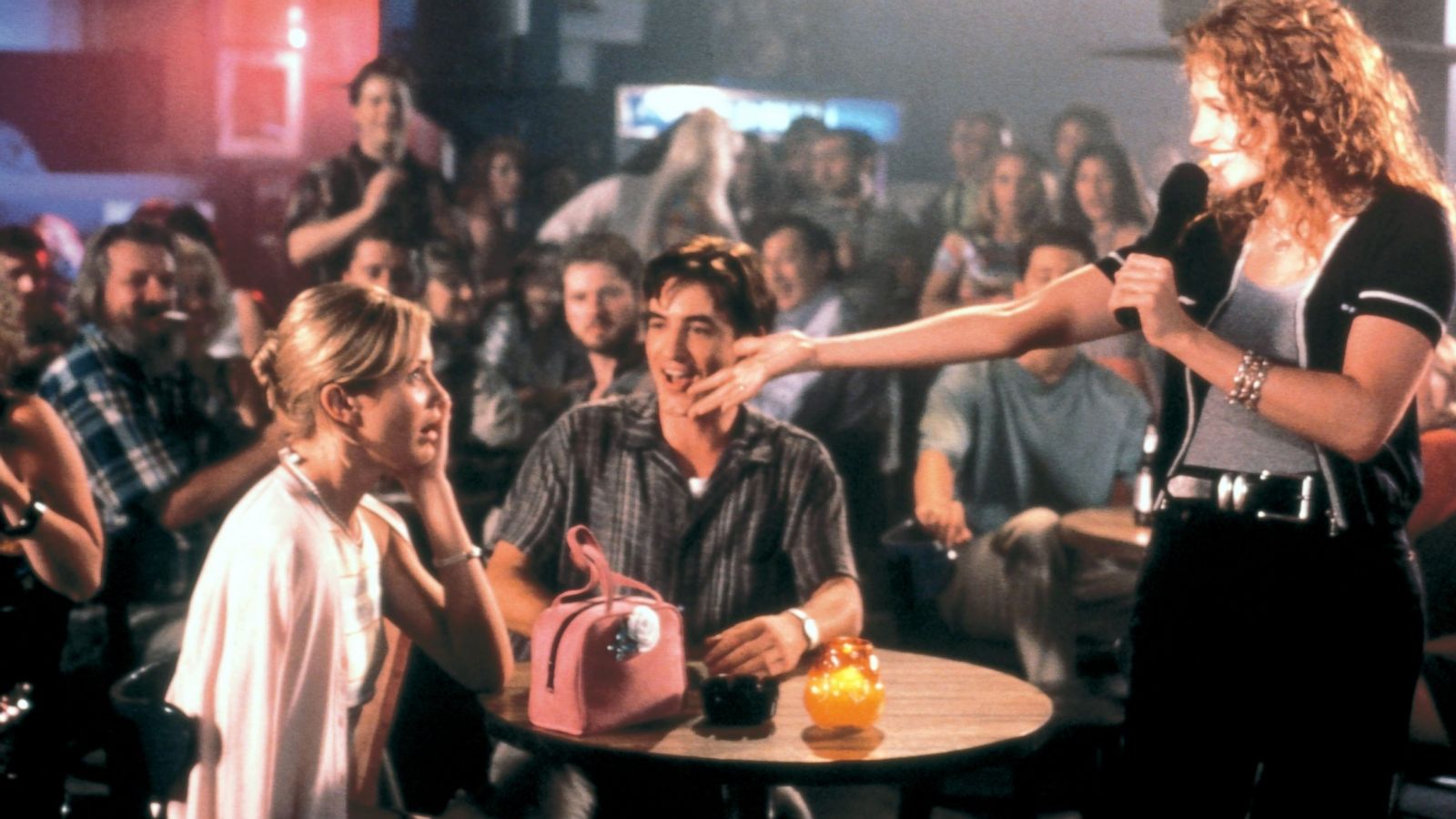 My Best Friend's Wedding is a romantic comedy that was released in 1997 and oh boy, it is controversial. The movie stars Julia Roberts, Dermot Mulroney, and Cameron Diaz who are all sort of in a love triangle whether they know it or not.
The story follows Julianne, who realizes she's in love with her best friend Michael, who is about to marry someone else. Julianne tries to break up the wedding and win Michael's heart. The reason why we ranked this in the top 5 of our favorite 90s romantic comedies is because it is actually realistic unlike many others. She's trying to break up his wedding and expects it to work out. Luckily, Michael seems to have the right attitude and won't let his best friend get away with that.
3. Clueless (1995)
Clueless stars Alicia Silverstone and it was the breakout hit of her career. She plays Cher, a wealthy high school student who leads her friends in fashion and relationships as they navigate their late teen years and Beverly Hills lifestyle. She plays matchmaker for a new, mysterious student and in a shocking twist, she eventually falls in love with her stepbrother.
2. Pretty Woman (1990)
Pretty Woman is a classic romantic comedy that was released in 1990. The movie stars Julia Roberts and Richard Gere and they set the scene for an unusual tale of love that starts with a transaction. Vivian, a prostitute, is hired by Edward, a wealthy businessman, to be his escort for a week. As they spend more time together, they develop feelings for each other, but the fact that they come from very different worlds makes their relationship difficult. While they don't seem like the best match at first, their spark becomes undeniable.
1. When Harry Met Sally (1989)
When Harry Met Sally gained immense popularity in the 90s and is still super popular to this day. The movie starred Meg Ryan and Billy Crystal, and was directed by Rob Reiner. Harry and Sally are college friends and they keep running into each other over the course of their young professional lives. Soon, they are very close friends, but deny any attraction for each other while they search and fail to find their perfect partners. Interestingly, they are both convinced that men and women can't be friends and have sex without someone's heart getting broken. It's a timeless, entertaining rom com classic, so you have to add it to your watch list.
FAQs
What is a romantic comedy?
A romantic comedy is a genre of film that combines romance and humor. It usually follows a couple's journey to find love, with many comedic moments along the way.
Why were romantic comedies so popular in the 90s?
Romantic comedies were popular in the 90s because they provided audiences with a fun and lighthearted escape from their everyday lives. They also had relatable storylines and characters that people could connect with.
Are there any newer romantic comedies that are just as good as the 90s classics?
Yes, there are many newer romantic comedies that are just as good as the 90s classics. Some recent examples include Crazy Rich Asians, To All the Boys I've Loved Before, and Always Be My Maybe.
Are all of these romantic comedies suitable for all ages?
While most of these romantic comedies are suitable for all ages, some may contain mature content or language. It's always best to check the rating before watching with younger viewers.
Where can I watch these romantic comedies?
These romantic comedies can be found on various streaming services like Netflix, Hulu, and Amazon Prime Video, or rented or purchased through digital platforms like iTunes and Google Play.
What makes a romantic comedy a "90s rom-com"? 
The term "90s rom-com" is typically used to refer to romantic comedies that were released in the 1990s. These movies often have a distinctive style and tone that reflects the cultural attitudes and trends of the time.
What are some common themes in 90s rom-coms? 
90s rom-coms often feature themes of love and relationships, as well as the challenges and obstacles that can arise in romantic partnerships. Many also touch on larger societal issues, such as gender roles, cultural differences, and the pressures of modern life.
Why are 90s rom-coms so popular? 
90s rom-coms continue to be popular because they offer a sense of nostalgia and escapism, while also providing relatable insights into the complexities of modern relationships. They are often lighthearted and funny, making them a great option for a cozy night in or a lazy weekend afternoon.
In conclusion, the 90s rom-com genre remains a fan-favorite, and these 15 movies are a testament to their continued popularity. These movies are beloved for their timeless stories of love and laughter and the way they transport audiences to a world where anything is possible. The endearing characters, clever plot twists, and heartwarming endings make these movies a perfect choice for a cozy night in or a lazy weekend afternoon.
Gallery
One of the reasons these movies remain popular today is their ability to resonate with viewers of all ages and backgrounds. Whether you're a hopeless romantic or a skeptic when it comes to love, there's something in these movies that speaks to everyone. They offer a glimpse into the complexities of relationships, the joys of falling in love, and the challenges that come with navigating life's twists and turns.
So, whether you're a die-hard fan of the genre or just looking for a fun and lighthearted movie to watch, our 15 favorite 90s romantic comedies are sure to delight. So, why not grab some popcorn, get cozy, and indulge in a little nostalgia with these beloved classics? You won't be disappointed.