When the Portokalos family hears about a reunion in their father's childhood village, they do what any Greek family would do and hop on a plane with souvlaki in hand. Is it a hilarious move? Absolutely. Does the movie have a lot of creative merit beyond that? I'd say not.
There are very few movie franchises that could get away with making not only a sequel, but a third, corny film celebrating the same family dynamics. In this My Big Fat Greek Wedding 3 review, we'll dive into how this beloved comedy has evolved over time, what messages it presents, and if it's worth a watch.
Don't worry, there are no major spoilers ahead.
What Is My Big Fat Greek Wedding 3 About?
More than twenty years after the original release, My Big Fat Greek Wedding 3 highlights the new Portokalos family after the death of their father, Gus Portokalos, who was the patriarch and head of their proud Greek family. He left behind a journal with his thoughts and memories that he asked Toula to pass along to his three best friends from growing up.
One of the key points they make in the film is that Gus was an immigrant who traveled to America, opened a restaurant, and worked hard to provide a better life for his children. As a result, he never got back to his village in Greece before he died. He leaves it to Toula and Nick to carry on his memory and achieve his dream with the rest of the family. What better time to travel back to Greece and find his oldest friends than a Portokalos family reunion?
Toula gets everyone on board, including her now college-aged daughter, Paris, and all the aunts, cousins, and Portokalos relatives. We won't spoil anything, but let's say the trip does not go according to plan in many ways.
CHECK OUT: The Crowded Room Review: Adequate Drudgery 
Our Thoughts on Character Development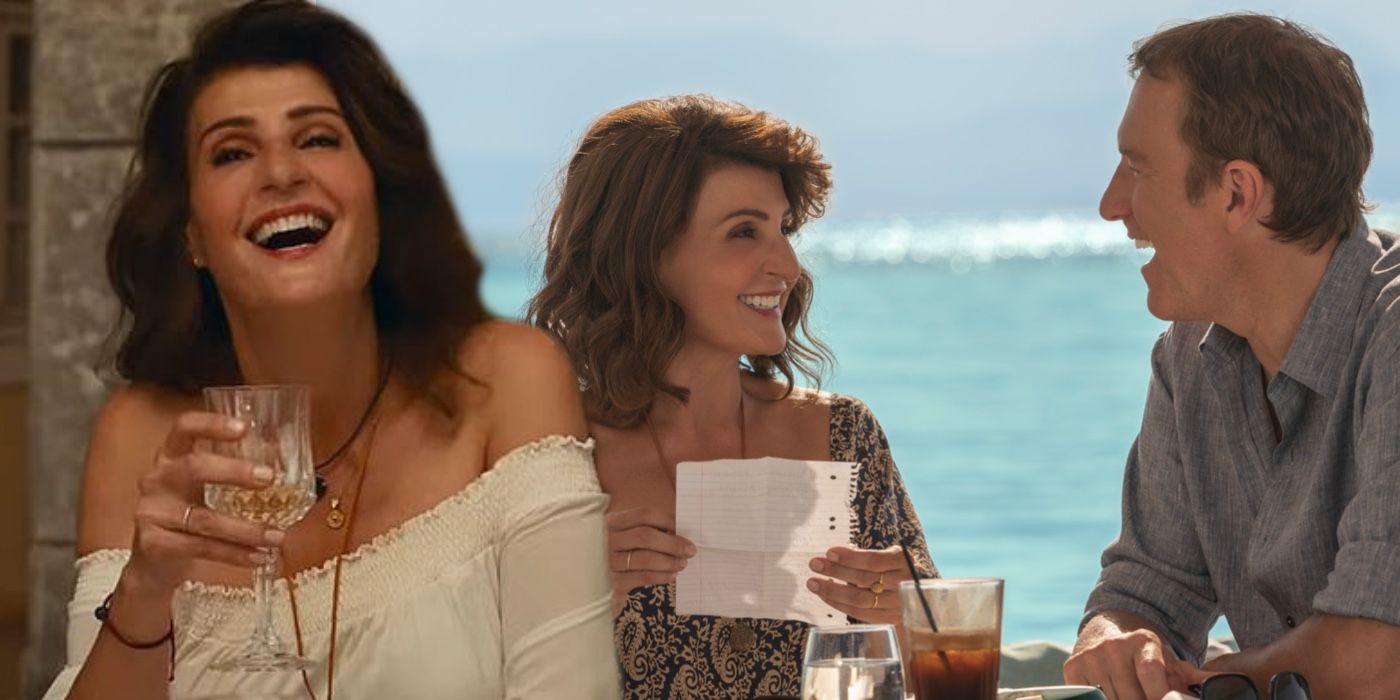 Toula
There is no My Big Fat Greek Wedding franchise without Toula. Not only is actress Nia Vardalos the writer and brains behind the operation, but she is also the lead character, head of the Portokalos after her father passes away, and seemingly the most relatable character if you do not come from Greek roots.
As she travels to Greece to fulfill her late father's wishes, it is clear that she is the same Toula we saw in the first and second movies. She is deeply loyal and caring to those around her, especially her Greek family. However, she can recognize how ridiculously close and hilarious they are as a group. It was nice to see her and Ian in a happy marriage years later, but the real stand out for me was the fact that she seemed to get more corny over time.
Toula has definitely lost her edge in My Big Fat Greek Wedding 3 and that's evident in the way she treats her daughter, Paris, letting Ian steer her away from intruding on her personal business. Does she get drunk and let go of her uptight side? Yes. Does that seem very Toula of her? Not really.
Portokalos family
When looking at the development of the Portokalos family over time in this My Big Fat Greek Wedding 3 review, the dynamic stays the same in their loud, intrusive, superstitious, and warm nature. However, Nick was entirely unlikable in my opinion because of his shallow tendencies. Paris seemed like an attempt to include a staunchly anti-Greek character who is then miraculously converted after some family bonding time. Lastly, I think they could have explored more of Maria's Alzheimer's disease, which was only mentioned a handful of times in the movie.
The fan favorites and returning cast members that are always lovable include Nikki, Angelo, Ian, Aunt Voula, and Aunt Frieda. These are the Greek characters that keep us coming back for more.
Victory: A New Addition
Lastly, there were a few new characters added to this third film, but one that stands out the most. Victory, played by Melina Kotselou, is actually the mayor of their small Greek village who guide the Portokalos family throughout their trip. As an actress, she felt like an authentic addition to the film because she is Greek. However, I found her interjections, like her cheesy catch phrase "number one, the best," distracting from the authenticity of the storyline. Plus, the Portokalos family insinuates that she is gay or non-binary, which forces an identity on her that she did not share or make a point of labeling. All in all, this felt like a miss to me.
ALSO READ: No Hard Feelings Review: Upbeat but Empty
Movie Messages
In such a cheesy, romantic comedy, it doesn't seem like there would be room for heavy messages. However, I can honestly say in this My Big Fat Greek Wedding 3 review that the plot's concept tries to incorporate tons of meanings behind treating people well. While the execution could have been better, the point does come across clearly.
Immigration
For example, the biggest narrative in this third film is the importance of treating immigrants with care and respect. Since Gus was an immigrant to America and was able to give his family a better life, the Portokalos family can clearly understand why treating immigrants well is important. The Greek characters mention their struggle to keep people from leaving small villages while seeing an influx of Syrian refugees.
Since they want to keep their Greek pride strong, they do not want to welcome the Syrian refugees. However, the Portokalos' help the town realize that it is important to do so and there's nothing wrong with diversification. It was a conversation that happened at least three times in the film, so while it wasn't a subtle message, it was there to be heard.
Alzheimer's
In the beginning of the film, Maria, Toula's mom, doesn't recognize her. This continues throughout the movie where she clearly loses her train of thought, forgets who people are, and doesn't remember what is happening around her. While she doesn't join the family on their trip, she Facetimes in as anyone would in 2023.
While My Big Fat Greek Wedding 3 tries to present and unpack Alzheimer's disease with compassion, I think a lot more attention could have been paid to this part of the story. Maria will jokingly say "I remember" after she teases her family to think she forgot something that she actually didn't. This felt wrong as most people struggling with Alzheimer's are not able to make the same distinction. However, it's worth mentioning as a message of the film in this My Big Fat Greek Wedding 3 review because any attention paid to this devastating disease is important.
Is My Big Fat Greek Wedding 3 Worth Watching?
It is clear from the trailer that you'll only like this movie if you're a fan of three things: cheesy romantic comedies, Greece scenery, and of course, the My Big Fat Greek Wedding franchise. I keep reading reviews that say "if you like these kinds of movies, then you'll like this one." As much as this places a negative connotation on rom coms, it's true in this My Big Fat Greek Wedding 3 review.
Not every part of this movie was a miss. In fact, as someone who has traveled to Greece twice and appreciates the culture, their trip brought a smile to my face several times. The food, the scenery, and the Mamma Mia-like wedding dance break all feel very nostalgic and relatable to anyone who has traveled to Greece in a large group before.
Plus, there were many funny moments of American-Greek culture shock and new budding romances that keep us rom com-lovers engaged. Ultimately, if you are a huge fan of the franchise, you should watch it for a kick and to see where the characters end up. However, if this is your first encounter with the franchise or you were never a big fan, this movie is not going to impress you or change your mind.
CHECK OUT: Asteroid City Review: Sharp and Beautiful
Where Can I Watch My Big Fat Greek Wedding?
After doing a My Big Fat Greek Wedding 3 review, it's only fair to share where you can stream all three movies in the franchise. This way, you can watch all three in order to get the most out of their character growth and plot development over time.
How to Stream My Big Fat Greek Wedding
The original movie is iconic and a fan favorite. As a result, it is available to stream on several platforms including Max, Peacock, and Prime.
How to Stream My Big Fat Greek Wedding 2
The first sequel featuring the Portokalos family involves a big fat Greek wedding for the parents instead of their children. To stream this movie at home, you can do so on Peacock.
How to Watch My Big Fat Greek Wedding 3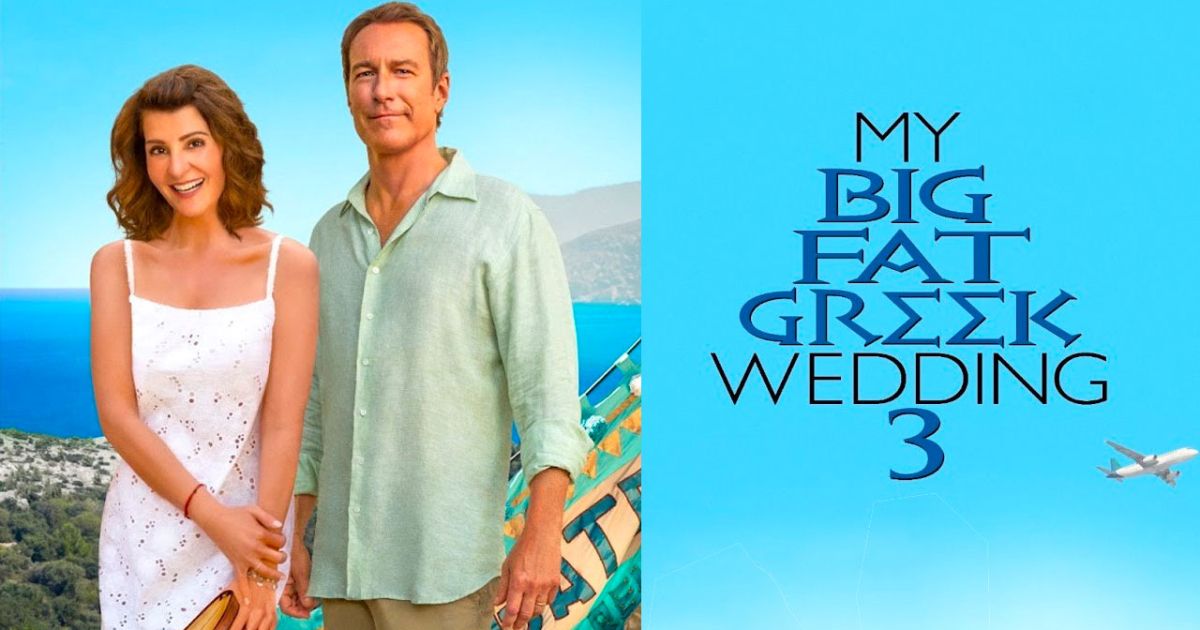 Since My Big Fat Greek Wedding 3 was just released in September, it is available to see in-person at a movie theater near you. Check Fandango to see your local showtimes. Since the franchise has its other films on Prime Video and Peacock, it is expected that the movie will land on these streaming platforms too once no longer playing in theaters.