Disney+ is in Star Wars fans' good graces at the minute, and a Ben Solo TV series would unite the divided fandom in the wake of the sequel film trilogy.
As Emperor Palpatine legendarily says in Revenge of the Sith…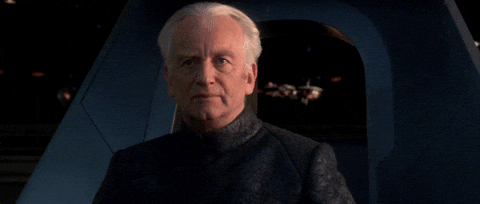 The Mandalorian was such a hit that Star Wars' first live-action TV show is shooting a second season now. Creator Jon Favreau has been in with the Mouse House for quite some time. Who knew he was setting up to expand Star Wars lore all this time?
So how could a Ben Solo series developed by Disney+ bring Star Wars fans together — and even improve the character's existing story? Read on to find out, but be warned: massive spoilers abound for The Rise of Skywalker.
CHECK OUT: The Mandalorian boosts Jon Favreau to pilot future Star Wars
Disney+ lets Star Wars and Ben Solo breathe
In The Rise of Skywalker, when Kylo Ren "dies" and Ben Solo goes back to the light, we barely saw it. A frenzied third-act climax culminates in Ben going HAM on the Knights of Ren and confronting Emperor Palpatine with Rey.
But old man Sheev launches Ben down a pit, leaving Rey alone — with aid from Jedi spirits — to defeat him. Ben only reemerges to give some of his life Force to Rey to resurrect her. The effort kills him moments later, and the two don't exchange more than a word and a kiss.
To say Ben's redemption was rushed is a galactic understatement. Driver still pulled it off with Han Solo-inspired flair because, let's face it, he's the best actor in the world right now.
The fact that Ben's last line is, "Ow!" should give us all pause and wonder what the heck happened on The Rise of Skywalker's production.
Yes, a lot of the movie revolves around main protagonist Rey. She's grappling with being Palpatine's granddaughter. Big stuff. But Ben is the actual last Skywalker, being the son of Leia and all.
Some things are stronger than blood, as Luke tells Rey. Not the threads that hold this story together, though. So, how could Ben possibly come back considering he died saving Rey?
CHECK OUT: Will The Rise of Skywalker mixed reviews hurt Disney+ Star Wars?
The World Between Worlds
As is uttered many a time in The Mandalorian, "This is the way." The World Between Worlds was introduced in Star Wars Rebels. It's described best by Wookieepedia:
"The world between worlds, also known as Vergence Scatter and Netherworld of Unbeing was a mystical plane within the Force serving as a collection of doors and pathways that existed between time and space, linking all moments in time together.

[…] Darth Sidious, ruler of the Galactic Empire, sought to enter the world between worlds, as gaining access would give him unimaginable power, and as Minister Veris Hydan believed, control of the universe."

Wookieepedia
When Ben died in Episode IX, his body vanished from view, suggesting he'd transform into a Force ghost. However, when Rey is on Tatooine in the film's final scene, Luke and Leia's ghosts are there, yet Ben's isn't.
There's enough ambiguity about his fate to suggest his essence could be in the World Between Worlds. Perhaps Ben has to atone more for his missteps before going full Force ghost?
To ensure the Republic lives on amid this latest conquest of tyranny, it'd sure help to have someone like Ben around. His relationship with Rey would continue, and heck, she could even use the Force to go into the realm and bring him back among the living.
In The Rise of Skywalker: The Visual Dictionary, the World Between Worlds is featured in the ancient Jedi texts Rey reads in the movie. Thus, it's at least been subtly referenced in live-action film canon.
Another big criticism of The Rise of Skywalker was how shallow the explanation was of bringing Palpatine back. It was virtually nonexistent. Perhaps Rey and Ben could learn together how Palpatine may have manipulated the World Between Worlds to make his return.
CHECK OUT: Best Adam Driver movies streaming this month
A practical approach
Let's be clear about what this limited series proposal would entail: a one-season, eight-episode run. Each episode runs for 45 to 50 minutes. That's plenty of time to tell a complete story.
It'd also work in a real-world scheduling sense. It's long enough to pique Adam Driver's interest in revisiting the character, sure. At the same time, it won't disrupt his busy schedule long-term.
For all the fans of the films, many enjoy the aforementioned animated series Rebels as well as The Clone Wars. They're officially canon, and if Ben Solo is in fact in the World Between Worlds, there's huge opportunity to tie in elements from those shows, too.
The character of Kylo Ren/Ben Solo is widely viewed as one of the better parts of the sequel trilogy. Regardless of how fans feel about the movies themselves, Driver's performance in the role is widely acclaimed.
It's pretty clear fans will lap up anything Star Wars related after The Mandalorian's huge success. Why not take an actor of Driver's caliber with an already-excellent character, allow him to explore it further, push Star Wars lore to new places and tie in more to what many diehard fans love?
Do it, Disney+. DO IT!