Ryan Gosling won all of our hearts because of his timeless, heartfelt roles starting from a young age. He also might be one of the most beautiful actors ever. As a result, we had to round up the best Ryan Gosling movies streaming so that we can enjoy all of his roles again at home.
Yes, The Notebook is an amazing movie, but Gosling has proven to be much more than that star-making role. As a result, we've skipped that film and put together a unique list so that fans can discover a new favorite work of his.
Below you'll find the best Ryan Gosling movies streaming right now that you may not have already seen.
ALSO READ: 15 Best Brad Pitt Movies and Where to Stream Them
10. Blue Valentine (Max and Hulu)
Blue Valentine is a dark romantic drama and one of the best Ryan Gosling movies that is seriously underrated. Due to the film's remarkable acting, Gosling earned a Golden Globe nomination for his role opposite Michelle Williams. It's an out-of-sequence narrative of a married couple who ultimately unravels and sees their union flame out.
But rest assured, it is pretty spectacular to watch. Williams also earned a Golden Globe nomination in addition to an Oscar nomination for Best Actress. Surprisingly, not many Gosling fans know about this movie, but it's a romance performance that rivals some of his best work.
9. Drive (Rent it on Amazon, Apple, or Google)
For the next couple of movies on our streaming round up, we arrive at Gosling's far more subtle acting fare.
Drive is an absolutely brutal, ultra-violent film, yet Gosling seldom utters a word. Even his facial expressions don't change very often. What we do know is, he has a good heart, and, damn, can he drive.
The supporting cast is exceptional with Carey Mulligan, Oscar Isaac, Bryan Cranston, Albert Brooks and Ron Perlman. If you like hard-R action, suspense, and criminal underworld stories, Drive is for you. As a result, we think it is worth the $4 to rent so you can check out this action genre that is rare for Gosling.
8. First Man (Rent on Amazon, Apple, or Google)
Continuing in the vein of subtlety, First Man sees Gosling portray astronaut Neil Armstrong as he prepares for the Apollo 11 mission to the moon. In addition to adopting Armstrong's mannerisms, countenance, and inner life, Gosling's voice is noticeably different than usual. He captures the NASA pioneer's cadence and inflections incredibly well, which once again establishes his range as an actor.
Gosling missed out on Golden Globe and Oscar nominations for his work, but we suspect this was due to the film's underwhelming box office. In any event, First Man is undoubtedly one of the best Ryan Gosling movies streaming right now.
7. The Ides of March (Rent on Amazon, Apple, or Google)
The stars are out in The Ides of March, a political drama directed by and co-starring George Clooney, but Gosling takes the lead. He plays campaign adviser Stephen Meyers for Clooney's presidential hopeful Mike Morris.
But even the straight-arrow Stephen gets tempted by power as the plot goes on. A string of double-crosses, betrayals and scandal threatens to derail Morris' bid to be the Democratic nominee.
When you have actors like Paul Giamatti and Philip Seymour Hoffman pulling on Gosling's allegiances from both sides, it inevitably creates an exceptional central conflict and some great acting. You can rent this movie from Amazon Prime Video for $4, which is well worth it.
CHECK OUT: 15 Best Nicolas Cage Movies Streaming Right Now
6. La La Land (Netflix)
Instead of bringing home the Best Picture Oscar like everyone thought, La La Land was still nominated for 14 Academy Awards and remained one of the most popular movies of 2016. With all the accolades and hype, it was bound to be deemed overrated by some, but at its core, we see true talent and emotions on screen.
This excellent musical by writer-director Damien Chazelle really holds up after multiple views. Beautiful cinematography, choreography, and a bittersweet central love story lift it to instant classic status.
Gosling crushes his role as a jazz pianist, credibly playing all the complex music throughout the film. Co-star Emma Stone won Best Actress honors at the Oscars while Chazelle took home Best Director. As a result, it is definitely worth streaming La La Land at home on Netflix.
5. Lars and the Real Girl (Tubi and Pluto TV)
In a vast departure from leading-man status or reluctant hero, Gosling is devastatingly wholesome, awkward, and shy in this 2007 gem. It is one of his least well-known films on this list, so it's perfect for those looking for a new Gosling movie to obsess over.
He plays the titular Lars, who orders a blow-up doll online. She becomes his girlfriend. Even though the doll has a clear intimate purpose, Lars develops a purely platonic relationship with "Bianca," the real girl. There are very sad reasons for this I won't spoil here, but if you like offbeat, quirky, weird indie rom-coms, check out Lars and the Real Girl on Pluto TV.
4. The Place Beyond the Pines (Hulu)
One of the most overlooked credits in the careers of both Gosling and Bradley Cooper is The Place Beyond the Pines. This is one of the best Ryan Gosling movies for its pulse-pounding and unique twists on a thriller drama.
There are a ton of surprises in this movie, which is not always what we think of when it comes to Gosling's acting career. However, he wears the role of a stunt man and struggling, but loving father extremely well. It's almost impossible to discuss the movie in detail without spoiling what makes Gosling's turn so fascinating, so we won't.
Lastly, The Place Beyond the Pines is a reunion between writer-director Derek Cianfrance and Gosling after their initial Blue Valentine collaboration. Both movies have dark tones that are similar, so pick your moment to stream carefully.
3. Remember the Titans (Disney Plus)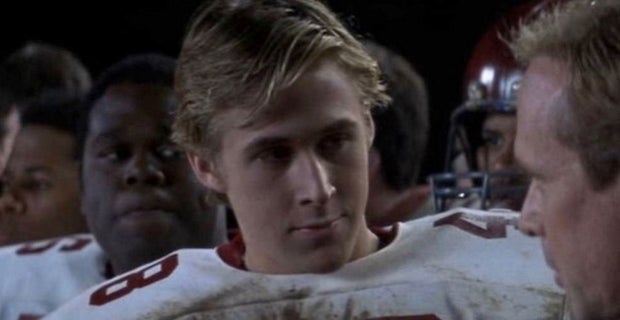 Gosling's role in Remember the Titans is almost more of a glorified cameo. However, Gosling is nevertheless recognizable in this Disney family-friendly classic. He plays a young cornerback on a high school football team attempting to integrate amid the Civil Rights Movement.
Denzel Washington stars as coach Herman Boone, the man tasked with bringing together his players amid racial tensions and divide. It's an excellent story, and Gosling's part is small but key.
Remember the Titans made over $136 million at the box office against a $30 million budget. It holds a 93 percent Rotten Tomatoes audience score, so you should definitely check out his cameo on Disney Plus.
2. The Nice Guys (Netflix)
If you can appreciate Ryan Gosling's comedic roles, then you will definitely enjoy The Nice Guys. In this film, we see Gosling and Russel Crowe team up as detectives looking for a mysterious young woman named Amelia. Gosling is a foul-mouthed drunk, but somehow happens to always be one step ahead of everyone else. He's also a single parent to one daughter who gets taken along these funny, dangerous sleuthing missions.
With the perfect mix of action, comedy, politics, and late 70s culture, this is easily one of the best Ryan Gosling movies streaming right now. Check out this comedic mystery turned manhunt on Netflix.
1. Barbie (Buy on Prime Video and Apple TV)
In case you missed Gosling's latest comedic debut in theaters, you can now stream the Barbie movie at home by purchasing through Prime Video or Apple TV. This movie has been making headlines since the very beginning of filming in 2020. Its release was one of the biggest box office debuts in history, especially for director Greta Gerwig.
The reason why Barbie falls number one on our list is easy; Gosling is the funniest we've ever seen him and he stands out as a remarkably conflicted character. As he debates his purpose in Barbie Land, he is conflicted over his masculinity and his intense affection for Barbie and other females who take charge.
Let's be honest. While Margot Robbie as Barbie brings out all the beauty and poise, this movie would not have been as successful without Gosling as the perfect, slightly dense Ken. As a result, you have to check out his best comedy yet with early releases to Prime Video and Apple TV.