Are you someone who loves watching movies? Do you enjoy the convenience of streaming services and want to know which one to subscribe to for the best movie options? If so, you'll be delighted to know that STARZ is a premium streaming service that boasts a vast library of top-rated films that will keep you entertained for hours on end.
In this article, we will take you on a journey through the 20 best movies on STARZ that will leave you captivated and wanting more. Whether you're in the mood for an action-packed thriller or a romantic comedy, STARZ has you covered with its impressive collection of high-quality films.
We understand that finding the perfect movie can be a daunting task, especially with so many options available at the click of a button. That's why we have compiled a list of the 20 best movies on STARZ to make your selection process easier and more enjoyable. So, grab your favorite snacks and settle in as we take you through the cream of the crop when it comes to movies on STARZ.
The 20 Best Movies on STARZ:
Directed by Christopher Nolan, this Batman movie features a brilliant performance by Heath Ledger as the Joker. It's a dark and intense crime drama that explores the blurred lines between heroism and villainy.
This sci-fi thriller, also directed by Christopher Nolan, is a mind-bending adventure that takes you through dreams within dreams. With stunning visual effects and a complex storyline, it's a movie that will keep you guessing until the very end.
This drama about the rise of Facebook and the relationship between its founders, Mark Zuckerberg and Eduardo Saverin, is a compelling look at the world of tech startups. Directed by David Fincher and featuring a great performance by Jesse Eisenberg as Zuckerberg, it's a must-see for anyone interested in the history of social media.
This prison drama, based on a novella by Stephen King, tells the story of a man named Andy Dufresne who is wrongly convicted of murder. It's a moving story of hope and redemption, with powerful performances by Tim Robbins and Morgan Freeman.
Written by and starring Matt Damon and Ben Affleck, this drama tells the story of a brilliant but troubled young man named Will Hunting who works as a janitor at MIT. With a great script and strong performances from its cast, it's a movie that will leave you feeling inspired.
This classic fairy tale adventure is a beloved favorite among movie fans. With a great cast that includes Cary Elwes, Robin Wright, and Mandy Patinkin, it's a charming and funny movie that will appeal to audiences of all ages.
This romantic comedy, starring Billy Crystal and Meg Ryan, is a classic of the genre. With a great script by Nora Ephron and strong chemistry between its leads, it's a movie that will make you laugh, cry, and fall in love.
This raunchy comedy, starring Will Ferrell and John C. Reilly is about two middle-aged men who become stepbrothers after their single parents get married. With outrageous humor and a great cast, it's a movie that's sure to make you laugh.
As a spoof of 60s spy movies, Austin Powers: International Man of Mystery stars Mike Myers as he investigates and tries to stop Dr. Evil's plans. It's a hilarious comedy that's packed with jokes and sight gags. With a great supporting cast that includes Elizabeth Hurley and Michael York, it's a movie that will keep you entertained from start to finish.
This Disney classic tells the story of a young lion named Simba who must learn to become king after his father's death. With great songs, stunning animation, and a memorable cast of characters, it's a movie that's loved by audiences of all ages.
This supernatural comedy, starring Bill Murray, Dan Aykroyd, and Harold Ramis, is about a group of scientists who start a ghost-catching business in New York City. With great humor and memorable characters, it's a movie that's sure to make you smile.
John McClane, played by Bruce Willis, is a New York cop who finds himself fighting a group of terrorists in a Los Angeles skyscraper. This action-packed movie is full of explosions, gunfire, and memorable one-liners.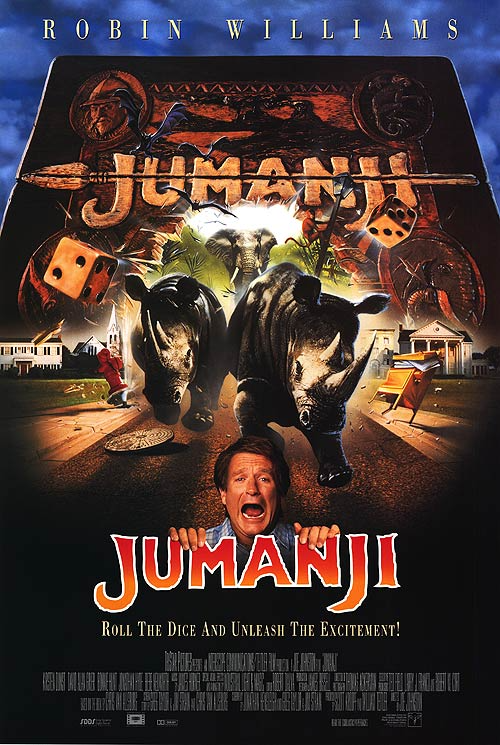 When two siblings discover a magical board game, they are transported into a jungle adventure filled with wild animals and perilous challenges. Starring Robin Williams and Kirsten Dunst, Jumanji is a thrilling and heartwarming family film.
Marty McFly, played by Michael J. Fox, travels back in time to 1955 and accidentally interferes with his parents' first meeting, threatening his existence. With the help of scientist Doc Brown, Marty must find a way to set things right before it's too late.
Archaeologist Indiana Jones, played by Harrison Ford, embarks on a quest to find the Ark of the Covenant before the Nazis can use it to conquer the world. Full of action, adventure, and iconic moments, Raiders of the Lost Ark is a classic film that has stood the test of time.
In this sequel to the original Terminator movie, Sarah Connor and her son John are targeted by a more advanced and dangerous cyborg sent from the future. With the help of a reprogrammed Terminator, they fight to prevent a future dominated by machines.
 A young boy named Elliot befriends a friendly alien who is stranded on Earth and helps him find a way home. Directed by Steven Spielberg, E.T. is a touching and magical film that has become a beloved classic.
A young FBI agent, played by Jodie Foster, must work with a brilliant but twisted psychiatrist, played by Anthony Hopkins, to catch a serial killer known as Buffalo Bill. This psychological thriller is suspenseful, disturbing, and unforgettable.
A disillusioned office worker, played by Edward Norton, creates a secret underground club with charismatic soap salesman Tyler Durden, played by Brad Pitt. As the club grows in popularity and becomes more violent, the line between reality and madness becomes blurred.
This epic crime drama follows the Corleone family, led by patriarch Vito Corleone, played by Marlon Brando. Full of betrayal, violence, and power struggles, The Godfather is a cinematic masterpiece that has had a lasting impact on popular culture.
Action and Adventure:
The Dark Knight (2008): The second installment in Christopher Nolan's Batman trilogy, this film follows the Caped Crusader as he battles the Joker, a psychopathic criminal mastermind.
Inception (2010): A mind-bending sci-fi thriller, Inception follows a group of thieves who enter people's dreams to steal their secrets.
Die Hard (1988): One of the most iconic action movies of all time, Die Hard stars Bruce Willis as a cop who battles terrorists in a skyscraper.
Check Out: 8 Best Basketball Movies and Where to Stream Them
Comedy:
Step Brothers (2008): This hilarious comedy stars Will Ferrell and John C. Reilly as two grown men who still live at home with their parents and struggle to get along.
Austin Powers: International Man of Mystery (1997): A classic comedy that parodies spy movies, Austin Powers stars Mike Myers as a 1960s British secret agent who must stop his nemesis, Dr. Evil.
Ghostbusters (1984): A supernatural comedy, Ghostbusters follows a group of misfit scientists who start a business catching ghosts in New York City.
Drama:
The Social Network (2010): This film tells the story of the founding of Facebook, and the complicated relationships between the founders.
The Shawshank Redemption (1994): Widely regarded as one of the greatest movies of all time, The Shawshank Redemption follows the story of a man's wrongful imprisonment and his eventual escape.
Good Will Hunting (1997): Starring Matt Damon and Ben Affleck, Good Will Hunting is a moving drama about a young man with incredible intellectual abilities who must come to terms with his past and his future.
Also Read: 13 Best Streaming Platforms for News and Sports
Romance:
The Princess Bride (1987): A beloved fairy tale, The Princess Bride is a heartwarming story of true love and adventure.
When Harry Met Sally (1989): A classic romantic comedy When Harry Met Sally explores the complicated relationship between two friends who wonder if they could be something more.
The Lion King (1994): Though primarily an animated movie, The Lion King is also a touching story of love, loss, and redemption.
Sci-Fi and Fantasy:
E.T. The Extra-Terrestrial (1982): A Spielberg classic, E.T. tells the story of a boy who befriends an alien and helps him find his way back home.
Jumanji (1995): A family-friendly adventure, Jumanji follows a group of children who play a magical board game that comes to life.
Terminator 2: Judgment Day (1991): The sequel to the original Terminator movie, T2 is a sci-fi thriller that follows Sarah Connor and her son John as they battle an advanced, indestructible cyborg from the future.
Check Out: 10 Best Frndly TV Channels: What's Worth Streaming?
How to Watch STARZ:
There are a few different ways to watch STARZ, depending on your preferences and devices. Here are some of the most popular options:
Cable
If you already have a subscription to cable or satellite TV, you may be able to add STARZ to your package for an additional fee. If this is the case, contact your cable or satellite provider. Get in touch with your service provider for further information.
Streaming Service
A large number of well-known streaming services, such as Amazon Prime Video, Hulu, and Roku, offer STARZ as an additional subscription option. Check the website of the streaming service you use the most to see if it offers STARZ.
STARZ App
If you would rather watch content on your mobile device, you can do so by downloading the STARZ App , which is available for both iOS and Android. The STARZ website also offers store videos that can be viewed on a computer.
Smart TV
If you have a smart TV, you may be able to download the STARZ app directly to your TV and watch it from there. If you do not have a smart TV, you will need to use another method.
FAQs:
How do I sign up for STARZ?
To sign up for STARZ, you can visit their website or download the STARZ app. You'll be prompted to choose a subscription plan and provide your payment information. Once you've completed the sign-up process, you can start watching immediately.
What devices can I use to watch STARZ?
You can watch STARZ on a wide variety of devices, including smartphones, tablets, smart TVs, gaming consoles, and streaming devices like Roku, Amazon Fire TV, and Apple TV. You can also watch STARZ through your cable provider or via the STARZ website.
What kind of content does STARZ offer?
STARZ offers a wide range of content, including movies, TV shows, documentaries, and original programming. Their library includes everything from classic films to modern blockbusters, as well as popular TV series like Power and Outlander.
Can I cancel my STARZ subscription at any time?
Yes, you can cancel your STARZ subscription at any time. Simply log in to your account and select the "Cancel Subscription" option. Your subscription will be canceled at the end of your current billing period.
Does STARZ offer a free trial?
Yes, STARZ offers a 7-day free trial for new subscribers. This allows you to test out the service and decide if it's right for you before committing to a paid subscription.
Can I watch live TV on STARZ?
No, STARZ does not offer live TV streaming. However, many of their TV shows and movies are available on-demand, so you can watch them whenever you like.
Also Read: What's on BBC America and How Can I Watch the Channel?
Final Thoughts
In conclusion, STARZ offers a wide variety of movies to satisfy every viewer's taste. Whether you are a fan of action, drama, comedy, or classic films, you are sure to find something that interests you on this streaming platform. The 20 best movies on STARZ that we have highlighted in this article are all excellent choices that showcase the diversity and quality of the content available.
From the thrilling action of Die Hard and Terminator 2: Judgment Day to the heartwarming family fun of Jumanji and The Lion King, there is something for everyone on STARZ. Classic films like The Godfather, Raiders of the Lost Ark, and E.T. The Extra-Terrestrial are timeless masterpieces that should not be missed.
The convenience of streaming services like STARZ allows viewers to watch these movies from the comfort of their own homes or on the go with mobile devices. With the ability to easily access high-quality films like these, it's no wonder that more and more people are cutting the cord and opting for streaming services instead of traditional cable TV. Overall, if you are looking for great movies to watch, look no further than the 20 best movies on STARZ.